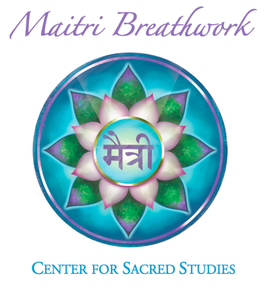 Maitri Breathwork
When:           Sunday, August 25th, 2019
Where:          Skokie, IL 
Tuition:          $185 all day ~ 
                                  Broth lunch provided - Potluck dinner.
Pre-registration with a non-refundable deposit of $100 is required to reserve your spot. 
Space is Limited - Registration will be capped at 12 participants, so please register early!
Registration: Email Moira Scullion at moira@shungohealing.com 
Feel free to call with any questions Moira 773.213.9398
Join us for a day of self care, journeying to the places within your self where the freedom of expression, empowerment and health resides. Developed by Jyoti and Russell Park, PhD, Maitri Breathwork™ is a transformative experience and healing modality that combines the power of breath, cross cultural music, healing herbs, and healing touch in a sacred, supportive setting.
Individuals use a simple breathing technique to enter a non-ordinary state, allowing access to healing states of consciousness to explore inner realms and support healing for mental, emotional, physical and spiritual aspects of being.  Release, re-patterning, and receiving allow one to navigate daily life with more fluidity, ease and personal power. 
Our day will start with an opening circle followed by participants partnering to take turns breathing and sitting in the morning or afternoon,­­­­­ with a light lunch between sessions. Afterward, breathers may create a mandala drawing to capture images, sensations, archetypal symbols, and meaning to enhance and ground their breathwork experience. After dinner the day completes with a closing circle. 
~ Breathe in joy and explore nature at your leisure ~
Facilitated by Moira Scullion and Karen Kazsmer, supported by Mary McCullough, all Maitri Breathwork™ Facilitators